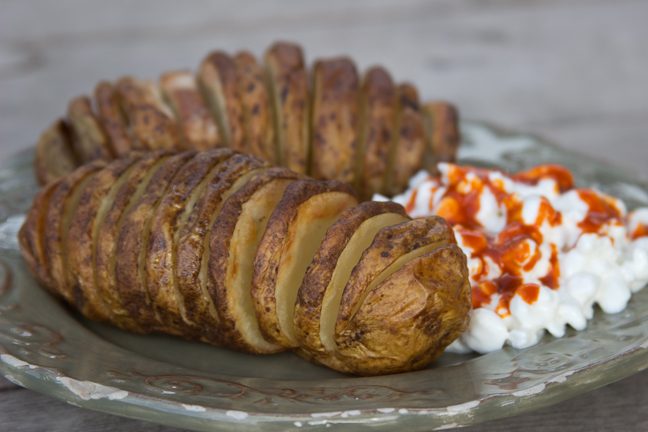 I know the real name is Hasselback potatoes – but these are called baked potato chips around this home.
It's amazing how much quicker they get gobbled up compared to regular baked potatoes.  Just a few nights ago I announced it was dinner time to which I got the classic "What are we eating?" I slipped and said "baked potatoes" – groans all around. And then I remembered – "Oh – I mean Baked Potato Chips!" Instant eruption of cheers. Amazing.
Simply slice the potatoes 3/4 of the way down. Rub/brush on olive oil/melted butter/the likes.  Or bake them up and place butter between the chips to melt.  Stand back as your children eat twice as many as regular baked potatoes.
Reminds me of a legendary family story.  When Jim Bob was young he did not like peas. Not in the least. But then his mom started making "meat peas" – those green ball vegetables were downright delicious! He loved "meat peas" for years before discovering they were the exact same veggie under a name-disguise.
I love my baked potato chips with Valentina and cottage cheese. This rosemary/garlic version looks delicious. And this one – Cinnamon Sugar Hasselback Sweet Potatoes with Oatmeal Cookie Crumble – you are on my list too.