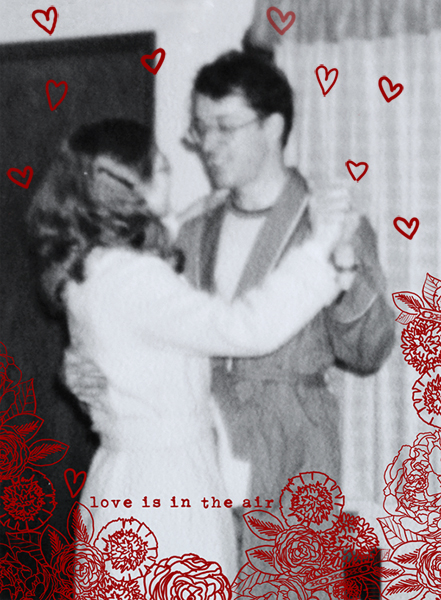 beautiful Valentine-y brushes by Rhonna Farrer
This photo was taken on my first Christmas.  I believe it is at my Grandma's.  The window looks familiar, but I mostly know because it is her handwriting on the back of the photo.
I love this photo.  My parents used to always dance around the kitchen when we were growing up.  Sometimes my mom would push the kitchen table to the side of the room and we would have the whole connecting kitchen and living room to dance in.  I remember thinking it was soooooo cool that my mom would ask us what dance moves were "in" at the time and then totally bust them out with us.  She could do a mean running man.  So fun.  I also remember my dad teaching me how to dance and standing on his feet so I was a little bit taller.  So many of my siblings are amazing dancers.  They are fun to dance with – and watch.  But enough about dancing.  I want to focus on how sweet it is that my parents took the time to dance together often.  When dinner was cooking… after Dad finished the dishes (He did them nightly.  Still does.  That's love too!)…morning…evening…whenever a good song was on…when there was no song at all.  Beauty.  I couldn't think of a better Valentine's day photo.
Reminds me of Elder D.Todd Christofferson's talk.  "A consecrated life is a life of integrity.  We see it in the husband and wife 'who honor marital vows with complete fidelity.' We see it in the father and mother whose demonstrated first priority is to nourish their marriage and ensure the physical and spiritual welfare of their children.  …The consecration of many who have gone before us and others who live among us has helped lay the foundation for our happiness."
Thank you Mom and Dad for the years of dedication to each other and your children.  We are truly blessed because of your love!
"In like manner future generations will take courage from your consecrated life, acknowledging their debt to you for the possession of all that truly matters."
Which is one reason why we have cleared out our kitchen.  I did it one day to mop the floor, but we realized without the extra furniture in there we danced a lot more.  All of us.  And we want to continue that tradition.
Now, here is my very favorite part.  Here's the pull-back from the above photo.  The uncropped version.  In it's beautiful 70's color.  I love that there is that yummy Christmas chaos going on.  Toys and wrapping paper and children.  Yet they are wrapped up in each other.  I need to do more of that.