Back to Pageant and those promised posts…
On June 12th we parked in the temple parking lot and started up the curvy path to the costume building to get our costumes for the year.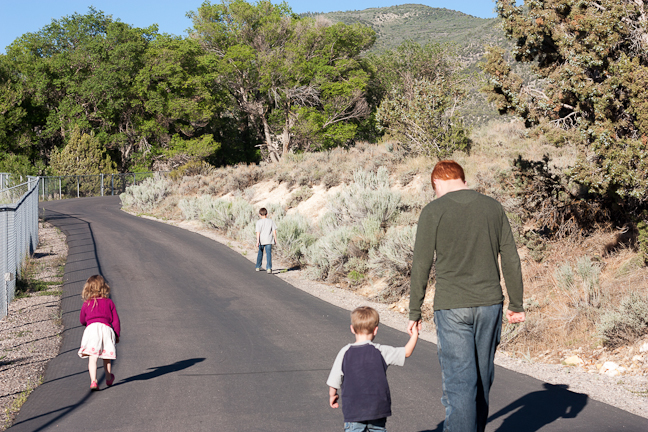 Watch Katey – she's going to be your tour guide.  🙂  Look at those determined steps…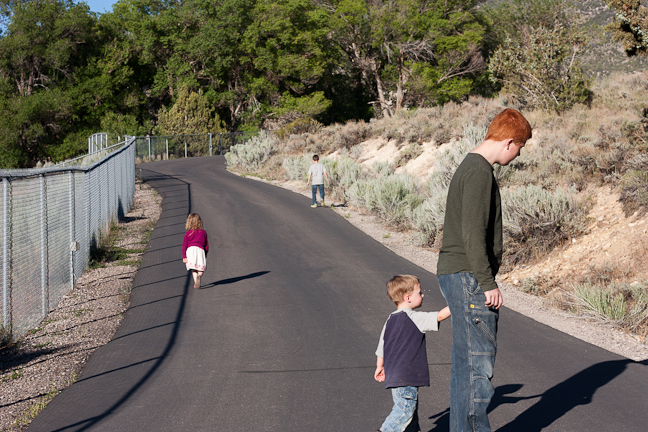 turned to a run.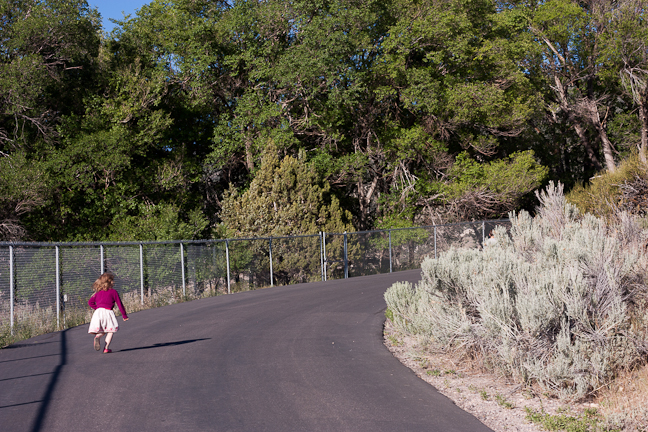 At the turn the costume building peeks up.  It is a big building – full of costumes, changing rooms and areas for make-up application.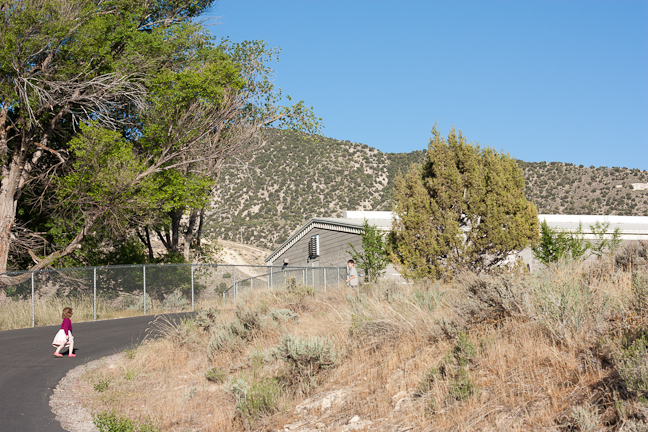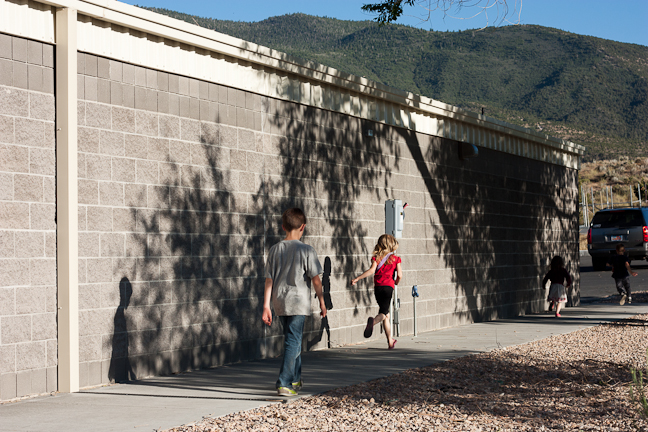 Katey just saunters on in.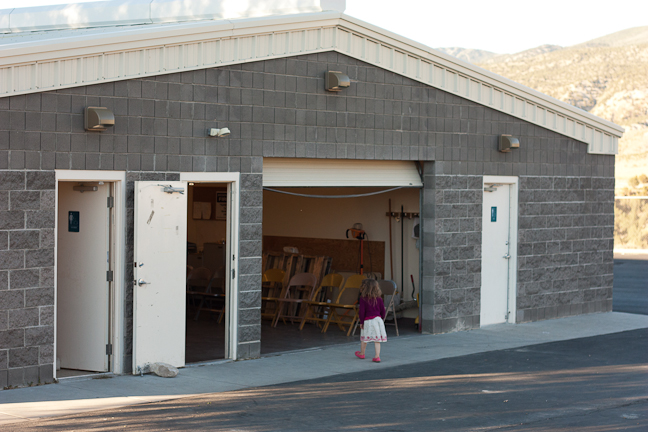 I wish I had taken more photos of the various costumes.  There are little sections within the building for the different scenes.  A section for warriors, one for pioneers, dancers, angels, Nephite costumes and a big section in the back for all the individual roles.  Here is one photo that shows the New England costumes on the right: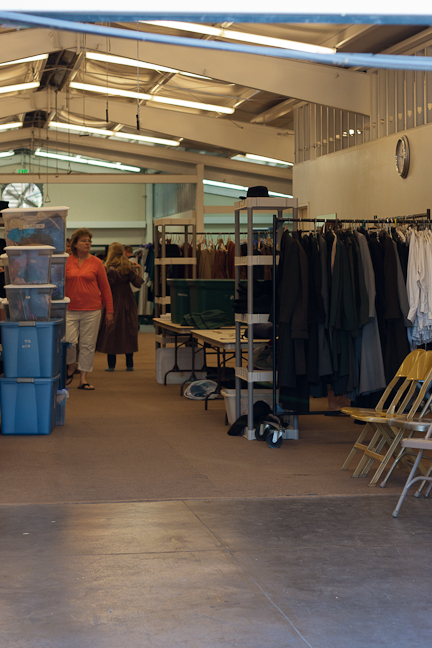 After being assigned, the costumes are kept on a hanger with a number for the person wearing the costume.  They are kept in the coordinating section.  We were given Nephite costumes by Cheryl.  She was so sweet and patient to help pick out all the right sizes for our family.  She even let me come back and dig through what was left for my costume.  Colorful is what I was going for.  Later I realized I would need to nurse in my costume, so I was glad it was a shirt and skirt instead of the initial dress selected.  Photos of costumes will be in the next post, but I wanted to share these two of Andrew and Josh helping pick out their costumes.  A feel can be had for the rows upon rows of costumes.  Almost the whole cast is in the Christ in America scene so they have close to a thousand Nephite costumes.  Incredible.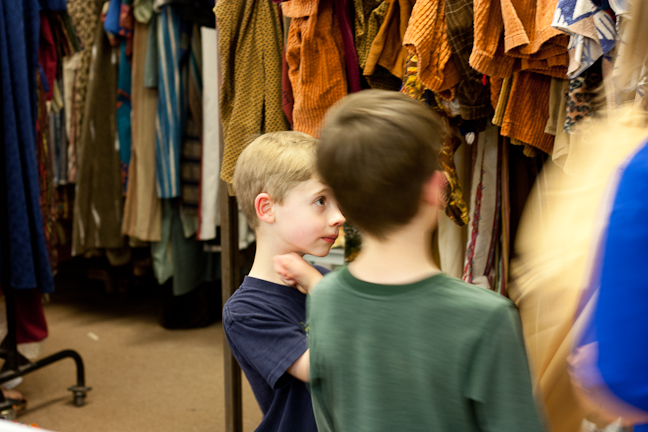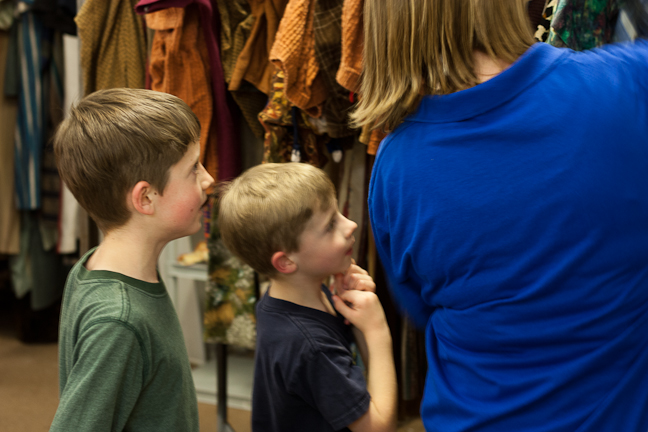 Big families get to keep their costumes all together in big totes for easy access.  The totes are numbered and placed in the front – across from the New England costumes.  This year we were #40.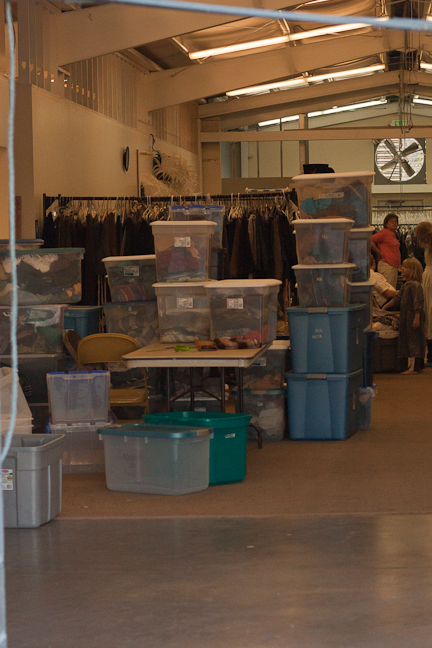 We dressed in shorts and t-shirts and the costumes were placed over.  Makes changing in public modest and easy.
Finished with our task, we headed back down the hill for practice.  Katey led the way.