The air was cool that evening in the small town of Ephraim, Utah.  It was 1941 and Helen had finished a day of teaching in a neighboring town.  She joined a group of friends to relax for the evening.  Roger, one of the young men in the group, offered up his dad's key to the dance hall and the decision was made.
While dancing, Helen fell for Royce (who preferred to be called "Tommy").  He stood out from the five other young men and he seemed to really like her too.  After a short while he was drafted into the Army along with his buddies.  Tommy made Helen an offer.  A move to Salt Lake City and marriage when he returned.  She liked the idea and moved to SLC to live with his mother.
Helen attended the LDS Business college that summer, where she worked on her typing and shorthand.  Typing came easily, but she never caught on to shorthand.  Not from a lack of trying though – she sure worked at it.
Helen wrote to Tommy often and received letters as well.  His letters came with inked out areas.  The whole part inked out so one could not even make out what the section was about.  It was years later that she learned he was serving in Italy.  She trustingly slipped her one-page mailers into the mailbox and knew they were most likely getting inked up as well on their way to Tommy.
At one point in 1942, Tommy's mother decided Helen really needed a ring.  He sent the money for the ring and Helen went shopping with her mother-in-law-to-be.  They shopped down main street in Salt Lake City and ended up at two jewelry stores side by side.  Helen loved a ring at the first shop and decided to check next door as well.  After perusing the selection there she was even more set on the ring at the first store.  They went back and bought it.  A beautiful two-tone piece with a gorgeous diamond that sparkled in the sunlight.
Helen finished her year at the Business College and began to look for a job.  She had connections at a business office on 3rd South and waited to hear back about a position.  When things stopped looking promising she applied at Fort Douglas and was given a job.  The next day she received an offer from the business office.  No backing out of an army job though.  While Helen was at Fort Douglas she worked with CCC records.  She helped audit the records and wrote letters for waybills to be paid.  In three months time she had collected $22,000.
Helen had been wearing the ring for about a year when she received a letter from Tommy with the news that he wanted to cancel their agreements for their future.  The war was over and he wasn't sure when or even if he would be coming home.  Helen was just fine with the new plan.  She stopped writing, moved the ring onto her right hand and didn't shed any tears.
On a September evening that year Tommy showed up on her front doorstep.  They had a long conversation.  At one point Helen offered the ring back.  He told her to pawn the ring and buy a fur coat.  He asked if they could still be friends.  Helen said of course.  They went out to dinner one night, but it was too painful.  The next time Tommy called she was busy and the relationship died off.
Helen asked her mother to put the ring in a safe deposit box and forgot about it.  Later Tommy came back asking if he could have the ring.  She let him know that she did not have it in her possession and thought to herself ,"I've not giving that back Buster – you had a chance."
Helen went on to work at a transmitting tubes plant in SLC, transferred to a California plant when the one in Utah closed and then moved back to Utah to finish her teaching degree.  After a rough winter she moved back to the warm weather promise of California.  She taught elementary age children there and eventually met the love of her life.  They had a sweet, lovely child Mary.  Helen gave the ring to Mary when she graduated from high school and told her she was welcome to use the ring however she'd like.  She wore it for awhile.
And here is where the details get hazy.  Helen said she didn't worry too much about the ring after it was in Mary's possession.  That's okay though, because I can talk with Mary soon.  She's my mother-in-law.  And that sparkly two-tone ring?  It lives on my left ring finger, passed down a few generations.  My husband was willing to place the diamond into a new setting, but I fell in love with the 1940 style when I first saw it.  It's beautiful and it has history.  History now recorded.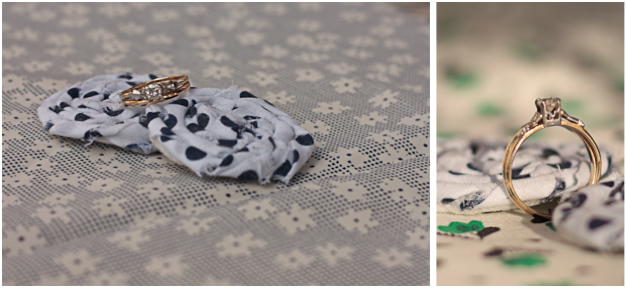 p.s.  I had fun this afternoon looking online.  For a photo of Salt Lake City Main Street on April 1940 go here.  Click here for the Salt Lake Tribune from December 12, 1940.  On the left hand side you will see an ad for fur coats.  🙂
p.p.s.  Indexing continues to move forward.  If you're looking to index a specific state you might want to jump on it.  A handful are nearing 100% completion.  If you have yet to sign up (It's easy! … and help is always appreciated) click on the blue "get started" button here:  1940 U.S. Census Community Project site.  Keep up the good work all you indexers!  🙂  Also, the 1940 census blog linked to an interactive graphic from Family Search (https://www.familysearch.org/1940census/).  Here you can track the progress of each state.  If you click on the state you can also easily find the actual census records of the area you are looking for.  Beauty.
{This week's blog ambassador theme is stories from the 1940s.  I knew instantly I wanted to write about my ring.  I photographed it sitting on some fabric from my mother's mother.  I have a whole box of it.  After some quick research online about 1940 fabric I picked out some that closely resembled.  It may or may not be from the 40s.  🙂  As part of the1940census.com ambassador program this blog post enters me into a drawing to win a $100 Visa Gift Card.}