Yesterday was the beginning of this free class offered by Jessica.  I remembered to pin it to Pinterest and totally forgot about shouting out the happiness over here.  Thankfully, you can still sign up:

In Jessica's words:
"Every year, I take the opportunity to give back to the community by offering a free class. Not only does it give you a chance to make a cute project and record some special holiday memories, but it will also give you a chance to take a look inside the online class environment available in ALL of the classes here at JessicaSprague.com.
In our class, we'll be using cardstock and digital patterned paper to create a stunning, but EASY and REPEATABLE garland you can hang from your ceiling, drape around your tree, or hang on the wall. Each year as you create December memories, you can create a new garland. Even the storage box is a keepsake!
In addition to our amazing project, our week-long class will be filled with ideas to make your holiday memory making, and memory-keeping a little brighter and a little more fun!"
Go here to register and join in on this merry-making.  🙂  I *love* the memories/photo aspect along with the beauty of the holiday crafting.  Merry-making and memory-keeping.
More happy news over at JessicaSprague.com: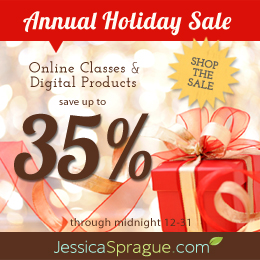 To read more about the specifics of the sale go here.  I love that the classes are on sale too – the one I am most looking forward to (that starts on January 9th) is the Digital Art Journaling class.  A creative, introspective format… I'm going to love it.