I had some thoughts I wanted to blog, but it really needs some background first.  Hence, a three part series… on the topic of fortune.
Some of my favorite stories growing up were family history ones.  I loved hearing about John Tanner, my fifth great-grandpa and his conversion story.  He lived in upper New York and was one of the area's leading entrepreneurs.  He probably would have stayed there permanently  if he had not met the missionaries of the Church of Jesus Christ of Latter-Day Saints.  John was a Baptist lay-minister who went to hear the missionaries speak – from what I understand, he wanted to protect his Baptist brethren from false doctrine.  He had open sores on his leg that could not be remedied, but was stubborn (a family trait – perhaps? maybe we'll go with strong-willed…) and told the doctor that he would rather leave this world with his bad leg than have it amputated.  So, that evening, he propped his leg up in his cart and went to hear the missionaries speak.  John left that evening with a Book of Mormon and a desire to know the truth.  A few days later one of the missionaries (Jared Carter – the other missionary was Simeon Carter) visited his home.  Jared "administered to John, and commanded him to rise and walk in the name of the Lord.  [John] never used his crutches again."  He was baptized that very night, along with his wife.  He walked three quarters of a mile to do so – after months of not walking on that leg.  (all quotes from "The John Tanner Family" by  Leonard J. Arrington, Church Historian, March 1979 Ensign)
John's story is full of generosity and consecration.  He sold his farms, hotel, orchards, thousands of acres of timber and an island and proceeded to give his all to the church.  Some in loans, some in donation.  The large things he helped with were the Kirtland Temple and the church-sponsored bank, the Kirtland Safety Society.   Before he left on a mission in 1844  he met  "Joseph Smith on the streets of Nauvoo, he gave the Prophet his note for $2,000, signed in Kirtland in 1835 to redeem the temple land. The Prophet asked what he wanted him to do with it, and Father Tanner said, "'Brother Joseph, you are welcome to it.' The Prophet then laid his right hand heavily upon Father Tanner's shoulder and said: 'God bless you, Father Tanner, your children shall never beg bread.'"
I remember my mom claiming that blessing and prophecy – knowing it was intended for generations.  And it has been fulfilled – many generations over.  We never went hungry growing up.  We had a bountiful garden – my grandparents a flourishing orchard and farm – and a whole section of our basement always filled with food.  We were and continue to be so very blessed.  I have to wonder if perhaps this promised blessing is not one of the reasons my family so throughly loves food.
When I was younger I imagined what it would be like to be wealthy.  To have our own island (because, of course, we would have inherited it) and to live a rich life.  Especially when I found out that the property John Tanner owned back then is now worth more than $250 million dollars – that's a huge sacrifice.  Then I thought about the blessings we would have missed out on if John Tanner had never heard the missionaries.  The abundant life that the gospel brings.  To know the joy of family and the purpose of our life here.  The knowledge of eternal families, a living prophet on earth today, temple worship and the peace it brings.  To experience serving and loving others – there is no comparison.  Once again I thank my Heavenly Father for a generous, big-hearted great-grandpa that knew where real treasure lies.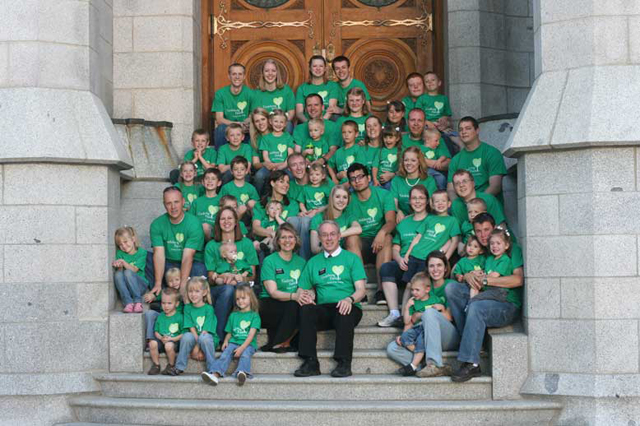 {Gedeborg Family – July 2011.  We're in the middle.  ;)}