Speaking of Katey, she is just adorable lately.  She has a ginormic imagination.  I think she always has, but now she also has the vocabulary to let us know what she is doing.  Beauty.  One of the latest is tucking the wings from her Tinker Bell doll into her clothes and flying around.  She just flits about – so cute!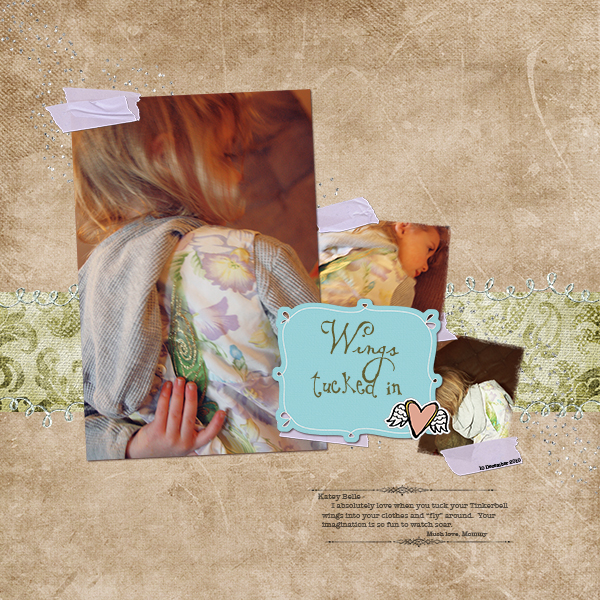 My featured designer at Jessica Sprague's site this month is LIV.  She is such a sweetheart.  I adore her creativity too.  I used a lot of her product on this one.  For complete credits go here.

The squiggle glitter line reminds me of a hostess cupcake swirl.  Yum!
One of my favorite parts of the layout is the lilac colored washi tape.  In the description Liv says that Washi is "Japanese masking tapes made of rice paper. I hand-tore each one of these and extracted them with love so that we can bring all that wonderful hand-crafty goodness to our digital creations!"  Beauty.  I love the crumply ones especially.  The semi-opaque ones are my fav, but it's nice to have those and opaque ones.  I also love all the different sizes and shadowing options on these yummy tapes.  The tapes come in blush color too, so far.  More colors are promised.  😉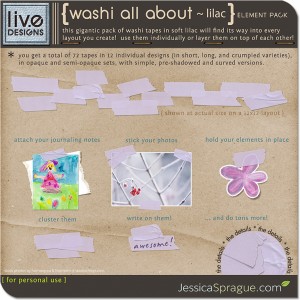 It is brand new in the store today!  Because it is new you can get it for 20% off.  However, the whole store is 20% right now for the holiday sale.  Sweet.
My layout is also featured on Jessica Sprague's home page today.  Fun!