Join Jessica Sprague on a journey of inspiration.  For the next ten days Jessica is offering a free online class – Inspiration Everywhere.  It is designed for all crafters and creative souls.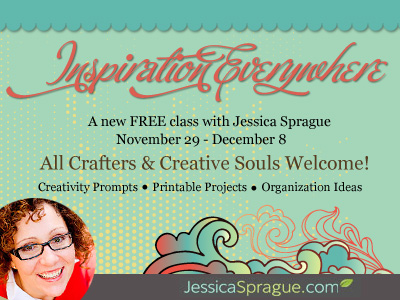 Here is the class description in Jessica's words:
"In our 10-day class together, we'll make projects to help us gather and organize inspiration in five different categories. For each of the themes we'll have a project to make, and different crafty techniques to call your creative muse, no matter WHAT kind of art you make!
Words
Music
Art
Tools
Play
I have another purpose for offering a FREE class: to help you get a feel for what ALL of my other classes are like. If you choose to, you can easily continue your education here with me in a variety of ways: Digital scrapbooking, hybrid (paper + digi) scrapbooking, card-making, photo editing, albums, photography and more! We'll talk more about these in class, too!"
The class starts today and goes for 10 days.  If you want to play along you need to register by midnight eastern tonight.  (I will get better about letting you all know ahead of time – sorry I didn't!!)  The beautiful part (besides it being free) is that this class (just like all her classes) can be accessed at anytime and will be available to you forever on her site.  Love that!
The steps to register for the class (which are oh-so-easy) can be found on the same page.
Happy Playtime!