I helped Jacob create a home teaching lesson today.  It only needed a little guidance.  He had read the talk and marked a few parts.  He knew one of the families had a small daughter and that the lesson would need to be adapted so she could understand.  A little of letting him talk it out and his two individualized lessons were ready.  His companion (Daddy) said he did a wonderful job.  Jacob has been filling in the last few months, but this was his first time preparing a lesson.  He took his role seriously.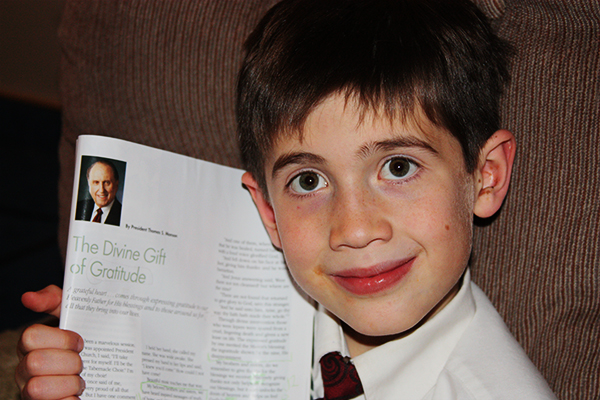 I will share quotes from his lesson throughout this grateful, thankful week.  He said the principle he selected  for the home teaching lesson was "If we are grateful we will be blessed".  Or as President Monson words it, "Sincerely giving thanks not only helps us recognize our blessings, but it also unlocks the doors of heaven and helps us feel God's love."
I am grateful for a ever-willing, sweetheart of a son that asked if I would like him to give his lesson for Family Home Evening tomorrow night as well.  Yes, please.   Perfect.
p.s.  I did have him wipe his taco face before going to home teach.  😉