Today I created some time (aka folded many loads of laundry) to listen to a wonderful program.  It is on the Mormon Channel, the official radio station of The Church of Jesus Christ of Latter Day Saints.  A conversation with Sister Julie B. Beck (the Church's General Relief Society President) and her daughters Gerilyn and Heidi.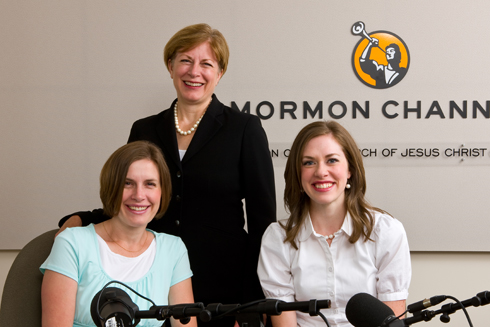 It is a beautiful show about motherhood and loving individuals and finding joy.  Simply wonderful and enlightening.
A sampling of what I learned/enjoyed:
*   Each Saturday their family had "Books at Breakfast".  They are all avid readers that enjoy it and have since they were young.
*   There are only three children in the family.  Sister Beck said because they didn't have a large household to keep up and no farm/cow, so her children learned how to work hard by playing the piano.  They trained, practiced 3 hours a day and now all teach piano lessons.  Sister Beck said having that music in her home has been so enjoyable.  Her grandmother had the talent of playing the piano, but she never had the opportunity.  She feels that her children are the generation when talent met opportunity.  She also felt if she didn't act on that then she would be accountable to her grandmother.
*   Gerilyn said she knows many ladies that are not sure they can get up in the morning and mother.  There are so many challenges and being a mother is hard work.  She said that she had many examples of righteous women that found fulfillment in their calling as a mother.  Gerilyn said it is possible to find joy and delight in what you are doing as a mother because you realize that is what the Lord wants you to do.  "You are a mother that you might have joy."  She has 7 children born in 11 years and her mom joked about having "night visitors " and very little sleep.  Gerilyn's answer was that yes,  She gets very little sleep, but it's an investment and that there are plenty of delightful things that happen ech day to balance it.  She also keeps her Grandmother in mind on the hard days.  She has what Gerilyn calls a "fan club consisting of 67 grandchildren and 67 great-grandchildren.  She also taught that children are individuals.  They have their own favorites,needs, and desires.
*   Enjoy it now or enjoy it later…  You'll have to listen to hear this story about Sister Beck's mother's adjustment to Brazil while her dad was a Mission President there.  It involves soggy diapers, flea bites and rats.
*   Sister Beck said she wanted to raise children she could be friends with later in life.  She wanted them to be smart, able to have fun together and someone she could have a conversation with.  She said in order to do that she had to start young to instill those qualities.  She had to be a parent while they were younger so that now they can be friends and peers.  She said at this point her children nurture her more than she them.  Beauty.
I'm actually only 50:10 into the show, with 36:55 left.  Looks like I need to find some more dirty clothes.  Oh wait, here we go… 😉
p.s.  Here is a fun creation from my brother and his sweet wife.