There are not enough meal times on Halloween to celebrate all the yummy food for the occasion.  What's a mommy to do?  Celebrate the weekend before too, of course.  🙂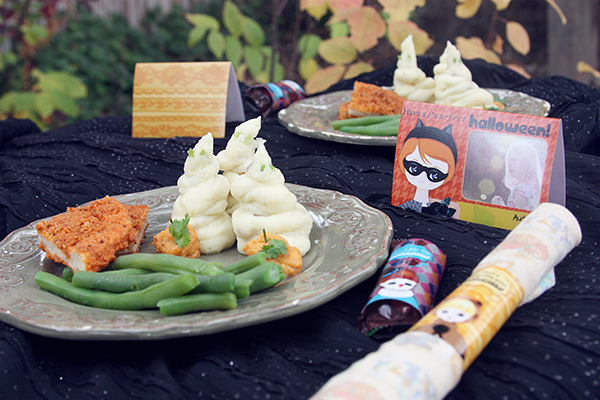 Especially when you have such cute place cards, napkin rings and and candy wrappers to try out.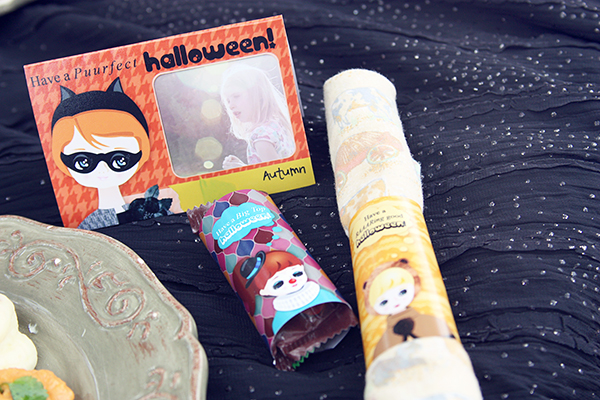 These all come from the Costumed Posie Dolls Halloween Printables by Kitschy Digitals.  They were originally designed as treat toppers and candy wrappers, but are oh-so-versatile.  They are found at Jessica Sprague's digital scrapbooking site, new in the store today.  Fun!  They came ready to add photos to and print.  Easy to use and oh-so-adorable.  I also used the Washi Tape Frames for typing the names on the cards.  I love Danielle's designs.  They have a fun, retro feel that I just adore.  Which leads to an exciting announcement.  This is my first project being on the creative team for Jessica Sprague's site.  Sweet!  There are many talented designers, lots of yummy designs, wonderful classes to take, and lots to learn.  I am with a wonderful group of ladies and feeling so blessed.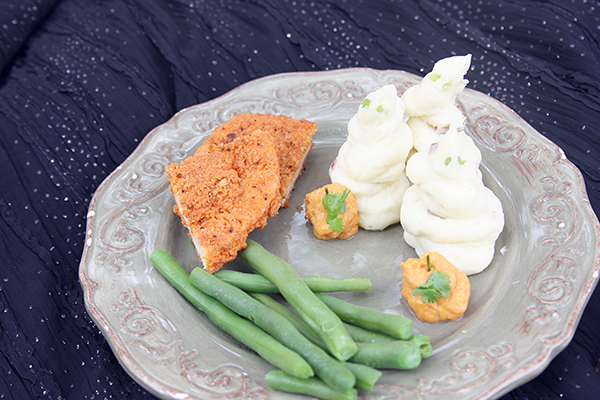 The dinner was fun to make too.  The smashed boo-tatoes idea came from Martha Stewart's site.  We used the potatoes from our garden (about half of our harvest) and made a big pot.  The recipe is all mine and so easy.  Boil the potatoes with the skins on for 35-40 minutes.  Drain the water.  Splush in half&half, whole milk, 2% – whatever you have on hand.  Cream cheese or sour cream is also yummy.  I like adding Real Salt, butter and fresh garlic to the pot.  Then I take the hand mixer and whip it all up, right in the pot.  I add milk and continue whipping until it's the right consistency.  Done.  Well – except this time I put it into a Ziploc bag, snipped the edge and squeezed out ghost-like potatoes.  Which is kinda-sorta similar to the pastry bag directions on Martha's site.  😉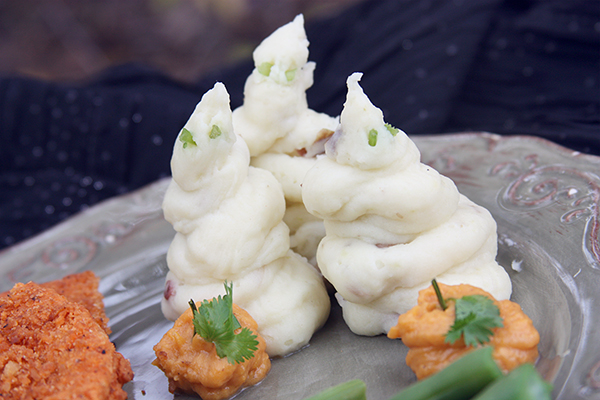 I didn't want to color sesame seeds black though so I just used cilantro for the eyes.  The sweet potato pumpkins were yummy too!  There was no recipe, so I peeled and then boiled them.  I also used half-n-half and butter, but this time I sweetened it up.  A little brown sugar, cinnamon and nutmeg.  They tasted just like pumpkin pie.  Yum!  Cilantro leaves and stems and the pumpkins were complete.  I added green beans from our garden and hot-n-spicy chicken from the store.  It was a hit at my house.
And a big thank you to JB for holding the leaves nearby for just the right photo.