The first annual (don't you love those 😉 ) Ward chili cook-off was this past Friday evening.  There were many delicious varieties of chili – 12 to be exact.  I'm always amazed at how each pot of chili tastes and looks so different – love that!  I tried three kinds – my favorite was a white chicken chili – yum!  There was a really yummy spicy one made by our newly-wed neighbors that was also delicious.  JB tried all 12 – can you believe it?  He did 3-4 in his bowl at a time, but that is still a bunch of chili.  There were also breadsticks, corn bread, salads,etc.  And the best carmel trifle cake with tons of whipped cream and broken candy bar on top.  So yummy – all of it!  Good company and entertainment too.  The bishopric showed us how they get ready on Sunday mornings – the classic other person "helping" routine.  They also sang/performed a song, "Cow Patti".  What a riot.
Then came the awards for the chili.  There were five awards.  Each came with a coordinating candy bar prize.  The categories were:  Most loved (Hershey kisses), 5 alarm chili (cinnamon bears), Most treasured (Treasure candy nuggets), Most mysterious (not sure the candy on that one – maybe watchamacallits??) and Out of this World (Milky Way).  Funny, but the way it turned out – 4 out of the 5 awards were given to people at our table.  Here's our award: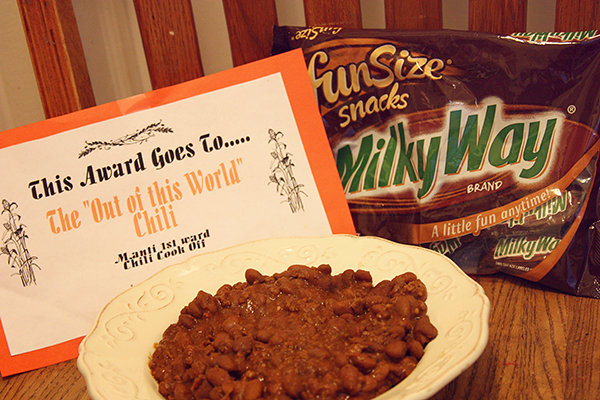 A fairly basic chili – but I added salsa and seasoned the meat with Weber Gourmet Burger seasoning.  It has a smoky, mesquite flavor that makes it taste like you're eating chili outdoors, cooked over a campfire, while on a cattle drive.  (Or maybe it's just the Pace commercial stuck in my head.)  Either way – yum.
We were also able to help tie two quilts.  That was Jim Bob's first time and he did a mighty fine job.  A fun, festive fall date.
Here's looking forward to next year (you know, the 2nd annual chili cook-off).