You can't win them all.
I found out last night that I did not move on to the next round in the Ultimate Digi-Scrapper contest. I did make it three rounds though! 🙂 Not too shabby. It was narrowed down from 380 to 200, then 100. My layout for Round 3 can be found here. The cut last night was to 40. Ouch. I did not make it but the challenge sounds so fun, so I might post in the "play along" gallery.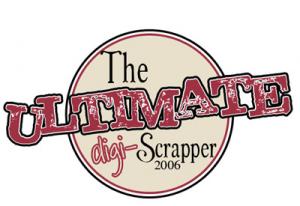 And for kicks and giggles, in the outside world, I could sign my name, Becky, Puddle Jumper and in the top 100 Digi-Scrappers. Ah, hahahaha. Seriously though, some amazing ladies went on and some amazing ones were cut too. I can't complain. I have three gorgeous layouts I love. And then there are some of my very favorite "layout artists" that didn't even enter the competition.  I don't feel it's a tried and true way to find the "top" digi-scrapper of course, but it sure is a lot of fun.
On to more scrapping news.
I entered the Shabby Princess NSD layout contest at The Shabby Shoppe. I won third place in the "Dinner Party" contest. I scraped some pictures of Jacob when we lived in Layton. He was 2 years old and would have picnics with his stuffed puppy, Tiny, all the time. Here's the layout: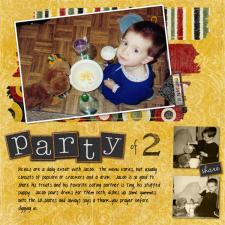 Dinner Party kit by Shabby Princess and Sara Carling, 2 from Distressed Alpha by Michelle Coleman, fonts: Journaling Hand and JWoodbury
I won 10 dollars PayPal cash. How cool of a prize is that? Sweet! Now to figure out what to spend it on. I like a dilemma like this. 😉