Nancie Rowe Janitz, a digital designer that makes gorgeous scrapbooking kits, came out with a new product. Okay, so it's not new new, but pretty new.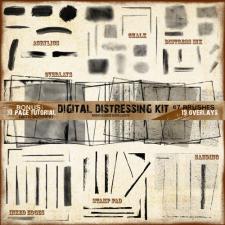 It is called the Digital Distressing Kit and looks to be fabulous. The description from the website says:
"This Digital Distressing Kit from ScrapArtist will help you to create wonderful accents for your digital scrapbook projects, distress a paper or two, create overlays and much, much more!
Included in the kit are 67 brushes and 19 overlays, designed to simulate distressing techniques from the real world! These brushes and overlays will help you to sand, chalk, and distress your digital creations, as well as create realistic inked edges, stamp pad effects and acrylic paint brush strokes. All brushes are included as Photoshop Brush sets (.abr) as well as .PNG files.
As a BONUS, when you purchase the Digital Distressing Kit, you'll also get a tutorial in PDF format which will walk you through each technique by helping you create a project or two. In addition, this tutorial includes goodies so you can follow along every step of the way!"
I love the fact that it comes with a tutorial and am excited to use the chalking, inking and sanding to give some of my layouts that wonderful "worn" look. When I won a gift certificate to Scrap Artist as part of National Scrapbooking Day, I knew exactly what I wanted to purchase. It is now downloaded and I am thrilled to play.
*Review coming soon!* 🙂